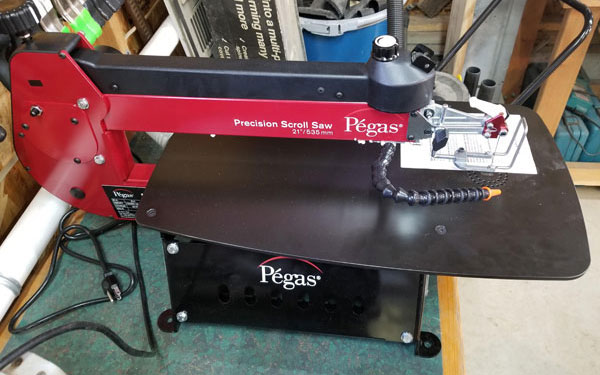 I need to add a disclaimer before I begin this review.
That fact that my previous scroll saw, was well, not all that good. It was an old Delta 16″ that worked but it was quite noisy and the vibration was kind of unnerving, least for me. I am sensitive ya know 🙂
Seriously though… scrolling has always been one of my favorite woodworking past times, but my Delta didn't make it all that enjoyable. So I didn't use it as much.
So I was excited to get a new scroll saw is a huge understatement. And even more excited to get a quality one.
I had been looking for a month or so and it was between a Excalibur and the Newer Jet 21″. I did like the blade change feature on the Jet. It seemed like a nice feature.
But, it just so happens, Luckily I caught the Pegas saw pre order, at a sweet pre order price. Awesome saw, awesome price. Tipped me in the Pegas direction.
I ordered for the first retail batch coming to the US. Waited a while, but it was well worth it. Though I was like a kid waiting to open Christmas presents.
Of course I am talking about the Pegas 21″ Scroll Saw. If you are not aware, the saw is made in the same factory with the same materials as the Excalibur and King Saws. So it's pretty much the same saw. I've been salivating over an Excalibur for years, so the Pegas was just made for me.
Plus the saw comes with a Pegas Blade Chuck already installed on the site. They say it's a $90 upgrade alone.
It came well packed…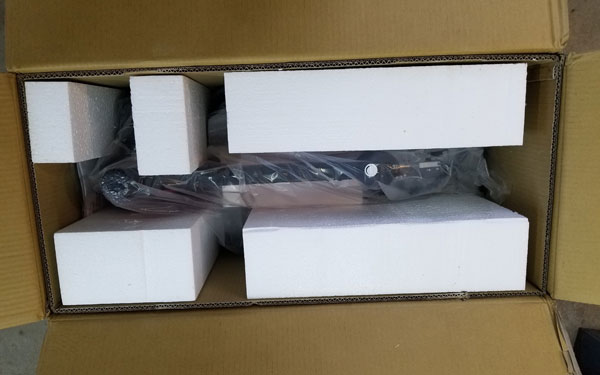 Was even bolted down to a piece of plywood for a even sturdier package.
Came with the all the necessary parts: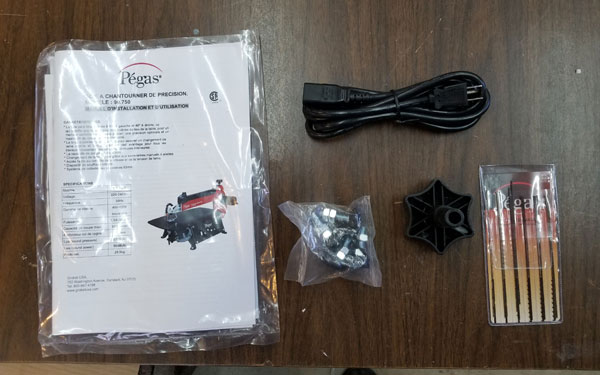 Although, it was pretty much ready to use out of the box. Came with a Pegas blade pre-installed. So it was just a matter plugin it in and turning it on.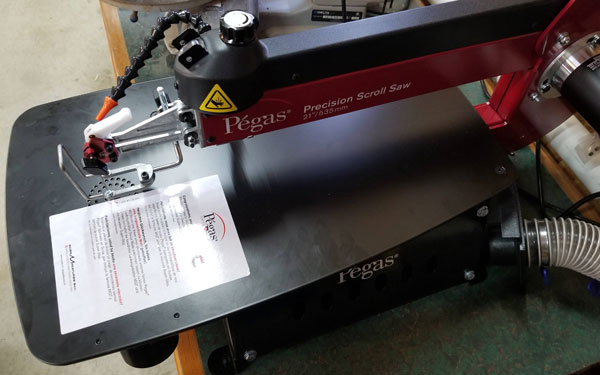 Not to mention, it's a good looking saw.
After using it for a couple months now, here is my opinions:
What I Like:
Great looking saw – So modern and sleek.
So Quiet – Did I say it was quiet? Compared to my old Delta, this saw just pleasantly hums. Even on full blast, it stays on the work bench, without it being bolted down. After a minute my Delta would have been on the floor.
Arm Lift – Talk about an amazing feature… If you've used an Excalibur or King, you'll know this, but for me, it's awesome! Makes it SO much easier to thread the blade through the work piece.
Cuts Straight On – With no adjustment, the saw cuts up and down 100% straight.
Easy Blade Changes – This is the first Pegas Chuck I've used, so all I can say is I love it. Pull up the tension lever, loosen the blade knob and done. To re-chuck, you just push the blade in the check, tighten the knob and tension, easy enough.
Large Slick Table – Going from a 16″ to a 21″ is quite a difference and it's nice to have a table I don't have to brush off the rust if I happen to leave it sit too long. Course not like this saw is going to be sitting idle much.
What I don't Like:
Dust Collection – While it might have "seemed" like a good idea, the dust collection was an utter failure. Sorry, but true. There are not many pictures online (should post my own), but the dust collection was a plastic like envelop that was glued used the table, center on the blade, with the blade running through the envelop. This then ran into a adapter for a 2-1/2″ hose. I say it might have seemed like a good idea because it's quite obvious that is was not tested. While it worked at first, the plastic envelop easily clogged up with saw dust and worst, little cut pieces would end up in there as well. If you've done any scrolling, you know there is often so many little pieces of wood.
The good news is I did come up with a solution when it comes to dust collection, you can read about it and see it here: Loc-Line 80813 Dust Collection Kit
Honestly I can not think of anything else I don't like about the saw, it is a dream. I would buy it again without hesitation.