As I keep building on my dust collection system, I've needed a good hose for some time.
Mainly for my palm sander. The hose I was using was SO stiff and it was connected to the sander with a rubber plumbing coupler with a hose clamp on each side. It worked, sucked up the dust, but the hose was not all that flexible and the plumbing coupler was a bulky attachment to say the least.
I was originally looking at the: Dust Right Universal Small Port Hose Kit
Seemed to be a useful hose the reviews where pretty good.
But… then I happened across this: Cen-Tec Systems Universal Power Tool Adapter Dust Collection Hose
So I thought, lets take the chance and here is what I got:
First off, it is a very flexible hose, I really like that feature. It's 10′, which is more than long enough for me.
There is also one important difference between the hose on this one and the Dust right hose, the Dust right hose expands. Not saying that is "bad", but as some reviews had mentioned, if you stretch the hose out to use it, then put your tool on a bench, the hose can retract and pull your tool off the bench and on to the floor. I guess the retracting hose might be nice, as you wouldn't have a hose stretched out all over, waiting to trip you, but honestly, I would rather have a hose that might be in the way,. than a hose that throws your tool on the floor. Well, of course my opinion.
So, What does it fit?
For me, so far, it only fits my Dewalt Palm Sander. Which by itself is worth the price to me. Since I use the sander so often, it's much more enjoyable to use with a more flexible hose and a much less bulky connection. While it fits the sander, you do have to muscle it on, which is good, you know it's not going to be coming off very easy. And the rubber connector section is quite thick.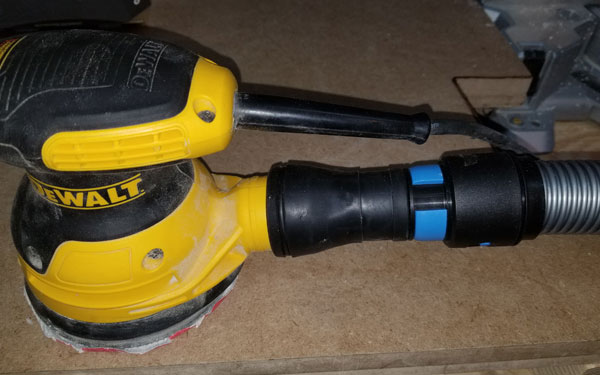 Currently many of my hand power tools are older and lack dust collection in the first place, so I am not implying this new hose is lacking what it can be used on. As I add new tools, I am sure I will find many more uses for this hose.
The only thing I don't know yet, it how long the hose will last, only time will tell on that.
One slight negative with product, is the fact that there was NO instructions or even a note in the box. It's not difficult to figure out, just would have been nice to explain how to use it.
Over all, I am happy with the hose.